Are you looking for some fresh salmon to buy? Maybe a pound of fresh cracked crab leg meat to savor dipped in hot garlic butter? Do you ever search websites like the Foodnetwork, Allrecipes, or Pinterest and want to try a new way to cook fresh seafood? You are in luck because in Grays Harbor we have a variety of local seafood markets stocked up and ready to share. Bring fish home to the table from these six local seafood markets.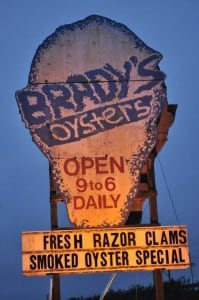 The iconic Brady's Oysters' welcomes all to the "South Beach." Photo courtesy of Mara O'Donnell.
If oysters are on the menu then Brady's Oysters is the place to be. Nestled along the pristine shores of Grays Harbor's South Bay, Brady Engvall developed the suspended culture method of growing oysters. Brady started the business in 1970. Today, his children Korry Engvall and Kristi Engvall Ballo continue the tradition. The retail seafood market sells oysters, clams, crab, fish and more. The business is also home to the world famous Brady's Oyster Feed: The annual fundraiser dedicated to clean water and jobs. The Brady's Oyster sign proudly stands tall to advertise the location of the market. It's also a monument that welcomes all to the "South Beach."
3714 Oyster Place E. Aberdeen, WA 98520 800-572-3252
Store Hours Open daily 9:00 a.m. – 7:00 p.m.
Fishing buddies and friends since childhood, Larry Cowles and Kevin Marks  team together to bring you the Seafood Connection
READ MORE HERE AT http://www.graysharbortalk.com/2014/08/28/grays-harbor-seafood-market/