Grays Harbor County is known for its overcast skies and frequent rainstorms. Cities and towns are filled with weathered homes and buildings nearly a century old that could easily serve as the backdrop of a spooky paranormal-themed movie.  It's no wonder several sites in this coastal community could be home to ghosts. As Halloween draws near (or any time of year) visitors can take a tour of the Harbor's many haunted places.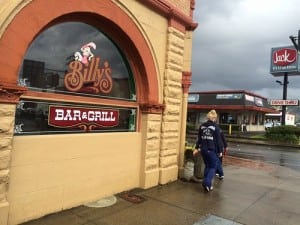 A patron leaves Billy's Bar & Grill in Aberdeen. It's said the ghosts of notorious serial killer Billy Gohl and the spirits of his victims haunt one of this town's famous establishments. Photo courtesy of Rachel Thomson.
Billy's Bar & Grill Kurt Cobain may have been Aberdeen's most famous resident, but many historians may say Billy Gohl was the most sinister. Gohl was an infamous serial killer who lived in Aberdeen in the early 1900s. The legend of his ghost has been documented in many books and a quick Google search turns up dozens of websites detailing his horrific murder spree.
Gohl was a sailor and laborer who came to Grays Harbor around 1903. Gohl became a representative for the Sailor's Union of the Pacific and had a wharf near the present-day restaurant that bares his name. Sailors from every port of call would stop at his office to collect mail, deposit valuables or connect with friends. After a while, Gohl began stealing from the sailors. After swiping the valuables belonging to his fellow sailors, he would then shoot, poison, strangle or bludgeon his victims and dump the bodies down a trap door that led to the Wishkah River. It's not known for sure how many deaths Gohl was responsible for, but some estimates have been as low as 40 to well over 100.  Read more here…http://www.graysharbortalk.com/2014/10/10/a-ghost-hunters-guide-to-haunted-places-in-grays-harbor/