I'm in my car driving west on highway 12. It's earlier than I'd like it to be, but the coffee in my Thermos keeps me caffeinated and awake. It's these early morning drives that make me wish I were a local.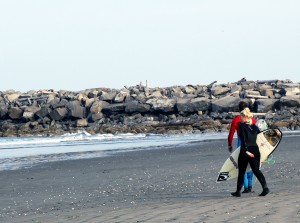 As I pass by the "Welcome to Aberdeen" sign my stomach jumps a little. I'm getting close, but I'm not there just yet. I wait until I've crossed over South Bay before letting myself get too excited. That's when I know I'm nearly there.
Passing by Brady's Oysters and other familiar shops and landmarks I finally make my way to the main drag. To my right stand inviting looking hotels and bed and breakfasts, to my left are several charming oceanside neighborhoods. As I drive deeper into town I pass by the Surf Shop and Steepwater (two local surf shops where you can buy or rent boards and wetsuits), a few of my favorite restaurants, and the popular and busy Westport Marina where fishermen, tourists and locals alike gather simultaneously for both work and play.
Eager to get to the beach, any stops I make in town will have to wait until later. I make my left for Westhaven State Park and notice a grin sneak onto my face. I've made it to Westport. I've made it to the surf.
All of Washington's coastal towns offer beautiful beaches and opportunities for adventure.  Read more here http://www.graysharbortalk.com/2014/10/07/surf-westport/