By Grant Clark

Mark Gomez will pull double duty at this year's Grayland Open Pro/Am Jetski Freeride Competition.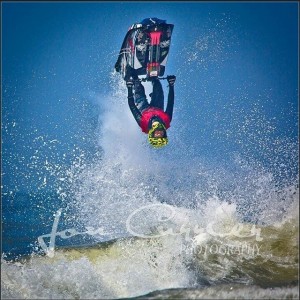 The world's top-ranked freerider and current point's leaders in the International Freeride Watercraft Association (IFWA) World Championship Tour, will not only attempt to successfully defend his title at the competition, he will also serve as the event's on-site announcer.
"It's going to be insane. I may have bitten off more than I can chew," the 25-year-old Gomez said, "but everyone wants to be a part of it. This event has really picked up momentum over the years. Dan has just done a fantastic job."
Gomez is speaking about Dan Lindgren, the founder and organizer of the Grayland Open, which is now in its seventh year.
"It's pretty amazing how it's grown over the years," said Lindgren, who grew up surfing the waves at Westport. "It's one of only two places in the United States you can see a competition like this. We will have some of the world's best professional and amateur riders here."  Read more here:  http://www.graysharbortalk.com/2015/08/04/grayland-open-jetski/