By Kristine Lowder

You never know what you'll find inside an oyster, but a little prying can reveal a pearl. The same goes for the Grays Harbor County Courthouse in Montesano.
Considered one of the state's finest, the courthouse was built in 1911 for $193,470.84. An eclectic blend of history, architecture and art, its story starts before Montesano became the county seat.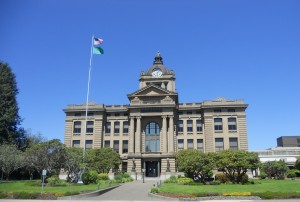 Grays Harbor's governmental hub was originally located south of the Chehalis River in the home of the county's first white settlers, Isaiah and Lorinda Scammon. Montesano was incorporated in 1883. Three years later, county government was ready to move out of Lorinda's parlor, and Montesano and Cosmopolis duked it out for the next courthouse site.
The question was put to voters. Montesano, "The Maid of Wynoochee," won. Courthouse construction began in 1889, but the burgeoning county soon outgrew the original wooden structure. A new courthouse was needed, and the good people of Chehalis County got busy.
Read more here:  http://www.graysharbortalk.com/2015/09/03/grays-harbor-county-courthouse/