In 1961, Grays Harbor was experiencing the beginning of the end of the timber industry's economic boom. In just a few short years, mills would close and mill-workers would be out of a job, but for now, life was good in Grays Harbor County. The city of Ocean Shores had recently started to be built as a luxury "California-Style" community on the Washington Coast. Hollywood Stars, such as Pat Boone, were investing in the region and were greeted by thousands of fans when arriving at the Bowerman Field Airport.
That wasn't the only thing Hollywood about Grays Harbor in 1961. Up in the deep gorges of the Wynoochee River, the people of Tinseltown were filming a movie.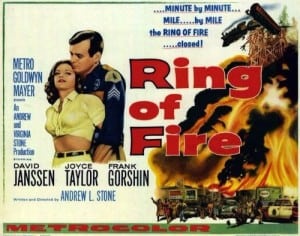 While the "Ring of Fire" movie may not have been a blockbuster, it left a permanent mark on Grays Harbor.
Earlier in 1961, a movie called "The Ring of Fire" was set in Washington State, but was being filmed in Oregon. Starring David Janssen (The Fugitive TV show) and Frank Gorshin (who played the Riddler in the original Batman), the plot of the movie was silly, centering on a police chase from Tacoma to Shelton and then through the woods of the Pacific Northwest during a wildfire. This disaster film ends with the couple fleeing the city on a train, only to have their train get stuck on a wooden bridge over a deep gorge.  Read more here http://www.graysharbortalk.com/2014/07/23/explore-ring-fire-movie-train-wreck/