For some people the term "Ah, go fly a kite!" is more than a brush-off line from a 1930's Little Rascals movie—it's an actual call to the art of kite flying at the beach. Consistent winds on the Grays Harbor coast beckon all levels of flying aficionados year-round with any number of kite designs.

On blustery weekends, the western Ocean Shores sky is festooned with these wind floaters. From single string fabrications to their multiline sophisticates, from traditional four-corner tailed kites to modern behemoths, they share the oceanside vista in aerial dance.
Of the many flying experiences available, kitesurfing, stands out for its physicality and adventurous style.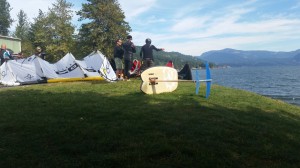 Kitesurfing is a water-surface sport mixing the skills of other aquatic endeavors including wakeboarding, windsurfing, paragliding, and even terra firma gymnastics into one awesome extreme sport.Kite flying itself has an ancient, fable-laden history and propelling objects using a kite system can be traced back into the nineteenth century. Kitesurfing itself began in 1977 with Gijsbertus Adrianus, a Dane awarded the first kitesurfing patent who can be considered its originator.  Read more here:  http://www.graysharbortalk.com/2016/05/09/kitesurfing-ocean-shores/