One of the major benefits to living in Grays Harbor is the proximity to so much natural beauty. The area is a gateway to miles of exquisite beaches, majestic forests, and the awe-inspiring Olympic Mountains. Nature surrounds Grays Harbor, beckoning hopeful explorers. But sometimes exploring the wilderness with small children and knowing just where to go can be a bit daunting.

In particular, the Olympics can be difficult to access. In general, those seeking mountain adventures must hike for several miles to penetrate them. One easier way to admire the mountain scenery with younger nature lovers in tow is at Wynoochee Dam and Lake.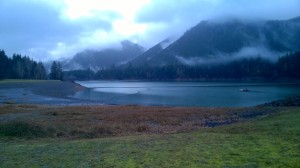 Located at the mouth of the Olympic Mountains, Wynoochee Lake is a hidden gem. The dam and day use area make a perfect destination for families looking for a day trip. The dam is a little over one hour's drive from Aberdeen. There are no commercial services in the vicinity, so it is best to pack and plan accordingly. Cell phone coverage can be spotty, and although a pay phone is available, be sure to prepare for that as well.
There are picnic tables, covered areas, a partially paved trail along the lake, and heated restrooms, which are a real treat on cooler days.  Read more here:  http://www.graysharbortalk.com/2016/03/31/wynoochee-lake-dam/