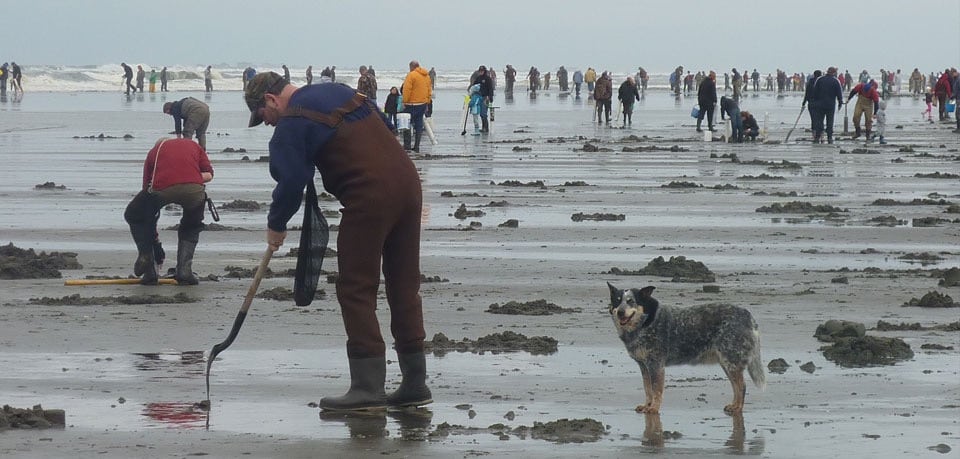 Make Memories Razor Clam Digging on the Washington Coast
Once the days start getting shorter and the rain returns, outdoor enthusiasts start celebrating a fantastic time to be a Washingtonian. While common sense would assume that the Pacific Northwest slips into a collective feeling of melancholy once the gray skies return, those who have lived in the region for awhile know better. They know it's razor clam season.
The fall months bring some of the more unique activities for those living in the upper left corner of the country and nowhere is this more evident than the Washington coast. Out on the wild stretches of beach along the Pacific Ocean where the heavy rains, strong winds and crashing surf usually send the weekend recreationist back inside, thousands of people drive toward the breaking waves in search of this regional delicacy. Clad in rain gear and hip waders, carrying clam guns and shovels, diggers descend to the sandy shores in hopes of quickly obtaining their limit of delicious razor clams.
Razor clam digging is an important part of life in the Pacific Northwest. For millennia, clams were one of the dependable food sources for those living along the coast. As settlers moved west and located along the coast, clamming became less of a survival food and more of a local favorite. Whether they are fried or in your chowder, razor clams are delicious and taste even better when you dig them yourself. This year, instead of wondering if you and your family will enjoy a clam dig out on the coast, why not try it yourself and create a memorable time along the Washington coast?  Read more here:  http://www.graysharbortalk.com/2016/12/07/razor-clam-dig-washington-coast/