Set Sail on the Tall Ship Lady Washington in Aberdeen this July
Lady Washington is returning home. The Official Ship of the State of Washington, Lady Washington, is set to dock at Seaport Landing in Aberdeen July 3-7 where she will be available for vessel tours and cruises for the general public.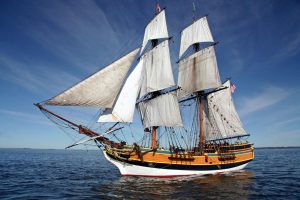 "People tell us that a visit to the tall ships is like stepping back in time," said Zachary Stocks, program development officer at the Grays Harbor Historical Seaport Authority. "We are carrying on a tradition that is almost extinct in the (United States), and we're proud to share the traditions and knowledge of the golden age of sailing with guests of all ages."
Evening Sails and Adventure Sails are offered, with guests embarking on a two- or three-hour sailing experience. Evening Sails are a little more laid back and Adventure Sails offer a chance to be part of the crew.
"We try to offer sailing programs that meet every interest. All of our sails are two hours longs, but there are difference between each one," Stocks said. "Our Adventure Sail is a chance to learn a little history, help haul lines, sing shanties, and spend time with friends and family. Evening Sails are a more relaxed sunset cruise that is perfect for photographers and for date nights. All of our programs are family friendly, and we occasionally offer specialty sails with themes, food, music and more."
A special firework sail from 8:30 p.m. – 11:00 p.m. will be on July 4 with tickets costing $59 and $79. An eight-hour excursion aboard Lady Washington to Westport and back will be offered on July 5 for $89.
Take a Tour of the Ships
Not big on sailing? Don't worry, you can still board the tall ship and take a tour while she is docked. Vessel tours will give the public a first-hand look into the Lady Washington and will be conducted July 4-7. Tours will be offered 1:00 p.m. – 3:30 p.m. on July 4, 2:00 p.m. – 5:00 p.m. on July 5, 2:00 p.m. – 4:00 p.m. on July 6 and 3:00 p.m. – 5:00 p.m. on July 7. Guests are encouraged to arrive early for the tours in anticipation of long lines. Tours have a suggested donation of $5 per person.
The modern Lady Washington is an exact full-scale replica of the original vessel, which was constructed in the 1750s. In addition to being the first American vessel to make landfall on the west coast of North America in 1789, Lady Washington, which was originally captained by Robert Gray, the namesake of Grays Harbor, was also the first American-flagged ship to visit Honolulu, Hong Kong and Japan.
Launched on March 7, 1989, the modern Lady Washington conducted its first tours around the Puget Sound before settling into its home port of Aberdeen 30 years ago. The ship has appeared in several motion pictures, including "Pirates of the Caribbean: The Curse of the Black Pearl" and "Star Trek: Generations," and on television, most notably "Once Upon a Time" where it portrays the Jolly Roger.
In addition to public tours by donation and ticketed sails, the tall ships, including the Lady Washington and the Hawaiian Cheiftain, are also available for private groups to charter and for schools to book the Grays Harbor Historical Seaport's signature educational field trip, Voyage of Explorers.
Lady Washington is also recruiting crew members. Anyone over the age of 16-years-old can come aboard for Two Weeks Before the Mast, a course in tall ship sailing, or The Seafarer Collective, a professional maritime workforce development program.
Schedule
Thursday, July 4
Aberdeen SPLASH Fourth of July Celebration
Vessel Tours: 1:00 PM – 3:30 p.m. ($5 donation)
Adventure Sail: 4:00 PM – 6:00 p.m.  ($49-$59)
Fireworks Sail: 8:30 – 11:00 p.m.  ($59-$79) *SPECIAL EVENT* Watch the fireworks display aboard the tall ships!
Friday, July 5
Vessel Tours: 2:00 p.m.  – 5:00 p.m.  ($5 donation)
Evening Sail: 6:00 p.m.  – 8:00 p.m.  ($49-$59)
Saturday, July 6
Excursion to Westport: 1:00 p.m.  – 9:00 p.m.  ($89)
Vessel Tours: 2:00 p.m.  – 4:00 p.m. ($5 donation)
Adventure Sail: 6:00 p.m.  – 8:00 p.m.  ($49-$59)
Sunday, July 7
Vessel Tours: 3:00 p.m.  – 5:00 p.m.  ($5 donation)
Members-Only Evening Sail: 6:00 p.m.  – 8:00 p.m.
Free for Grays Harbor Historical Seaport Members who RSVP in time
Tickets are available on the Historical Seaport website.